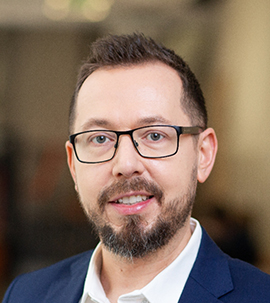 Tomasz Wrzesiewski
Izvršni director i viši consultant, Art Strategies Group, Poljska
Manager and with 20 years of experience in business and training, a recognized expert in process optimization and project management in Europe and worldwide, the owner of Art Strategy Group Sp. He is currently running a few prestigious projects in transport and construction industry, including eg. the top European railway industry company as well as the leading construction company in Serbia. His achievements, particularly with regard to the application of the Agile methodology construction projects and project portfolio modelling using hybrid solutions including the elements of PMI, CCPM, and Agile, have been a source of inspiration to other trainers and consultants.
Tomasz has designed and implemented the project management process and built a project management office (PMO) for many companies and institutions in central Europe. He has been working as an independent project management consultant for more than 4 years for Serbian AzVirt Ogranak Beograd. His innovative monitoring process has been applied in Cortanovci tunnels construction. Now his cutting edge methods are used for optimizing and monitoring the construction of a motorway with the bridge over the Sava River.
Tomasz has also cooperated in the field of management and work organization in the European Parliament, The Chancellery of the Prime Minister of Poland. Additionally, Tomasz acted as the consultant in management for the Polish Parliament Energy Commission.
Mr Wrzesiewski has been a guest lecturer at: Växjö University, Sweden, the Management Department of the University of Warsaw, and many other Polish universities and MBA courses. He is also the leading trainer in project management for Ernst and Young Academy of Business, Warsaw, Poland.