Fatih Karaca, Advisor of CEO, Halkbank, Serbia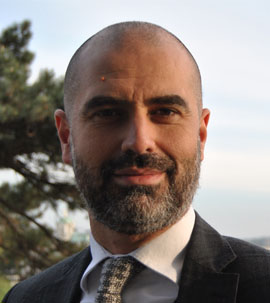 Fatih Karaca is a Turkish-Serbian entrepreneur and business expert with diverse experience in banking and the financial industry. He is the founder and owner of Karaca doo, based in Belgrade.
In January 2022, Fatih established his own company, Karaca doo, which provides business development and consulting services. The company specializes in various sectors, including real estate, where it creates brands for Turkish construction companies and supplies material for projects from Turkey. Karaca doo also engages in business development by holding distribution rights of a Serbian company in Turkish market and Turkish company in Serbian market.
Over 20 years of experience, Fatih gained valuable knowledge early in his career through positions at TC Ziraat Bankası in Izmir and Ankara. He held various roles such as assistant manager and specialist, contributing in areas such as consumer credits, resources management, and marketing activities.
After working in Turkey, he moved to Skopje in 2010, where he worked at Ziraat Banka ad Skopje as an assistant manager. He was responsible for credits and marketing and successfully established cards business network with MasterCard brand. Fatih also played a key role in the merger of Ziraat Banka ad Skopje with Halkbank ad Skopje.
Fatih joined Halkbank ad Skopje in 2010 as a representative in the Belgrade office. He conducted extensive research, analysis, and reporting about Serbian market, improving communication and collaboration between Halkbank in Turkey and Serbian service providers. He participated in the process of acquiring Čačanska Banka in Serbia, as well as the implementation of the brand Halkbank in Serbia.
From 2015 until the establishment of his own company, he worked at Halkbank ad Belgrade as the Marketing Director. In this position, he was responsible for various departments, including SME Marketing Divisions and Alternative Distribution Department . He was menaging the communication with Turkish clients in Serbia and creating network for Serbian clients in Turkey. He excelled in resolving client conflicts and providing solutions, as well as mentoring employees in business and communication matters.
Fatih began his education at Pamukkale University in Denizli, where he earned a degree in textile engineering. He later obtained an MBA degree from Gazi University in Ankara.
Throughout his career, Fatih Karaca had a strong commitment to professional development, entrepreneurship, and leveraging his expertise in banking, marketing, and business development. With his own company, Karaca doo, he continues to contribute to the business community and support companies in their growth and development.