Vladimir Drašković, MSc, CFA, court expert for the economic and financial field, WM Equity Partners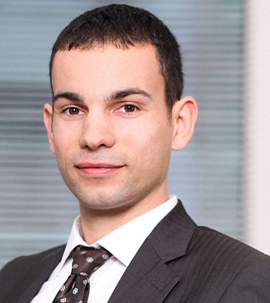 Vladimir started his career at the National Bank of Serbia in asset management and foreign exchange reserves in 2005. During 2008 he joined the Investment fund management company Fima invest as portfolio manager of the closed investment fund Fima SEE Activist. Since 2009, he has been a co-founder and partner in the consulting company WM Equity Partners doo Belgrade, and since 2016 he has been the owner and founder of the legal entity registered in the register of legal entities for court expert work VPS doo Belgrade, in which he is still active. The focus on macroeconomic factors of market mechanisms and the importance of interest rates, and then on the valuation of equity and familiarization with the functioning of the stock markets of Serbia and the region during the beginning of one of the biggest economic crises of the modern era, enabled the development of the ability to see and understand the perspective of different market participants.
In the period from 2011, special emphasis was placed on the areas of bankruptcy, reorganization and resolution of NPLs. Through operative work on valuation of equity, real estates, damage, and other claims in the capacity of a court expert, he learned the importance of real estate from the microeconomic and macroeconomic aspects. He is regularly "in touch" with real estate for the purpose of equity valuation of various legal entites and through the analysis for the purpose of financing, colateralization, settlement of creditors in bankruptcy, etc. On the other hand, during his work in the field of asset management, Vladimir had the opportunity to see real estate as a specific class of assets, especially praised among domestic investors, but also realize that domestic regulatory framework do not respect the market position and preferences of market participants regarding real estate as an asset class.
Vladimir took part in numerous initiatives for the development of the domestic regulatory framework, including interest in the implementation of the so-called REIT regulatory framework into domestic regulation. He has maintained a macro perspective of looking at numerous factors that influence the market, along with operational work in the field of valuation, reorganization and bankruptcy during which he is in constant contact with real estate.