Branko Trkulja, General Manager, PFB Properties LtD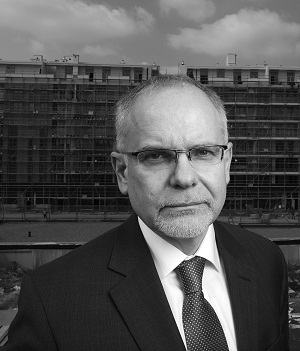 PFB Properties d.o.o. Belgrade, Serbia
, General Director
03/2011 – present
Real estate development and owning company developing Courtyard by Marriott Belgrade City Center Hotel at Vase Čarapića Street 2-4, Belgrade. One hundred and fourteen room hotel will be managed by Marriott Corporation under a long term, full management agreement.
West 65 d.o.o. Belgrade, Serbia
, General Director
12/2012 – present
Maintenance and security company maintaining multifunctional apartment / commercial complex WEST 65 at New Belgrade
Agro Development d.o.o. Belgrade, Serbia
, General Director
03/2013 – present
Real estate development and owning company developing a 152.000 m2 of multifunctional apartment / commercial complex WEST 65 at New Belgrade
Farley Investors d.o.o. Belgrade, Serbia
, General Director
03/2011 – present
Real estate development and owning company developing a 152.000 m2 of multifunctional apartment / commercial complex WEST 65 at New Belgrade
RST Corporation a.d. Belgrade, Serbia
, General Director
12/2010 – 05/2015
Shareholding company with Gazprom Export importing natural gas from Central Asia as a raw material for production of fertilizers at HIP Azotara – Pančevo and of methanol and acetic acid at MSK – Kikinda.
Rushotel OOO Moscow, Russia
, General Director
01/2008 – 07/2010
A hotel development project – developing a network of three and four star internationally branded hotels in the regional centers of the Russian Federation; Negotiating, setting up standards and lines of communications with the strategic partners: hotel operators (IHG, Marriott, Rezidor, Accor, Hilton), architects, civil engineering and contracting companies, equipment suppliers, quantity and quality surveyors, banks and investment funds; Organizing, controlling, coordinating and motivating a team of experts and assistants engaged on the Project, working on land acquisition and project management; Coordinating and directing marketing analysis.
Mitsides Public Co. Ltd. Nicosia, Cyprus
, Senior Management Consultant – Contracted Consultancy Assignment
05 – 10/2007
Restructuring of subsidiary's operations in Serbia including analysis of the human resources potential and organization, recruitment policies, optimization of the sales and marketing strategies, market segmentation and strategic positioning of the company on the pasta products market in Serbia.
Belexpocentar d.o.o. Belgrade, Serbia
,
Senior Management Consultant
-
Contracted Consultancy Assignment
12/2006 – 12/2007
A USD 50 million Holiday Inn Belgrade Hotel and expo/conference center development project; Managed all aspects of hotel completion, including coordination and motivation of over 20 subcontractors, marketing of hotel's grand opening, and marketing of hotel's expo-center; Analyzing real estate market in Serbia and Montenegro, searching for new hotel development opportunities and presented investment opportunities to potential international investors; Doing Feasibility Study related to potential development of a network of 4* internationally branded hotels in the Central & South-East Europe for the account of a Kazakhstani investment fund.
Trafi Holdings Ltd. Nicosia, Cyprus
, Director / General Manager
06/1992 - present
Management consultancy, financial/investment advisory and real estate agency services for over 300 corporate clients from the South East European region; Day-to-day management of Trafi Holdings Ltd., coordination of the subsidiaries (in Serbia, Montenegro, Bosnia, and Romania) and sister companies in FYR of Macedonia; Developing, setting-up and managing new investment and general trading projects; Financial consultancy services to various corporate clients related to then specific administrative, political and economic environment of Yugoslavia, including organizing financing and coordinating activities of the consortium of shareholders of the Hotel Hilton Belgrade Development Project; Developing short term financing/investment schemes for corporate clients as well as for the needs of the holding company.
Hyatt Regency Hotel Belgrade, Yugoslavia
, Director of Sales and Marketing
02/1990 – 06/1992
Creating market awareness by organizing PR campaigns, promotional material, marketing and media plans and programs, presentations at various professional fares and exhibitions worldwide, etc.; Oversaw a team of 10 sales and PR managers, conducted market segmentation and pricing policy and an on-going SWOT analysis of competitors; Daily contacts with numerous tour operators, travel agencies, airline companies, PR and marketing agencies and various other customers and partners; Liaison with Hyatt Corp.'s regional marketing and sales centers and implementation of their policies and practices; Working on a feasibility study for another Hyatt hotel then planned to be built at the Adriatic coast, in Montenegro; Participating in day-to-day management of the hotel and maintaining contacts with shareholders as a member of the Board of Directors.
Ivo Lola Ribar Corp. Belgrade, Yugoslavia
Regional Marketing Manager – North America
03/1988 – 01/1990
Setting up marketing strategies for introduction of Lola's brand name to the USA and Canadian machine tools markets. This included the establishment and coordination of a distribution network for Lola's in the USA and Canada and defining related sales policies and terms; Coordinating marketing and commercial activities related to special, long term joint venture and sub-contracting projects with North American partners; Market analysis and segmentation of machine tools markets in the USA and Canada.
Energoprojekt Co. Kampala, Uganda
,
Commercial Project Manager
06/1986 – 03/1988
Liaison with various related ministries, governmental bodies and customs authorities related to the set up of the company's office and mobilization and organization of the job site for the Reconstruction of Mithyana - Fort Portal Road Project;, Successful acquisition of the Reconstruction of the Kampala Sheraton Hotel Project; Mobilization of the Sheraton Hotel Project job site in Kampala; International procurement of the equipment and complete material for both job sites;
Energoprojekt Inc. New York City, NY, USA
, Assistant to the President
03/1983 – 06/1986
Taking care of all commercial, PR and financial matters related to daily operation of the subsidiary, acting as a procurement and project acquisition company for the account of the mother contracting company, Energoprojekt Corp. from Belgrade, Yugoslavia and its construction job sites worldwide (from South East Asia, via Africa to Latin America.