Panos Loukas, Project Director for the development of Projects in SEE, VINCI Concessions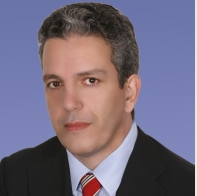 Panos Loukas graduated on National Technical University of Athens, Department of Mining & Metallurgical Engineering in 1992 with Post graduate studies in Business Administration MBA diploma from University of Sheffield, U.K.2011. and Post graduate studies in National University of Athens on the following topics: "Crisis management" and "Law & Economics"
Professional Experience:
February 2015 – today: General Manager of the Concession Company "GEFYRA SA"
in Greece, for the Rion – Antirion Bridge and Project Director of VINCI Concessions for the development of Projects in SE Europe.
January 2010 – January 2015: Project Manager of VINCI C
oncessions for the development of Projects in SE Europe.
May 2006 – December 2010:
General Manager of the Romanian branch of the company, "
EDRASIS
", specialized in geotechnical works.
November 2004 – April 2006
: Project Manager for the implementation of the PHARE project "Rehabilitation of the Northern Suburban Area of Bucharest", co-financed by the European Union and the Municipality of Bucharest.
January 2000 – October 2005: "
EDRASIS Greece", Senior Manager of the underground and tunneling department of the company, being responsible for the execution of underground – tunneling projects (Athens Metro, Attiki Odos Tunnels, micro-tunnels etc.).
June 1995 – December 2000
: "EDRASIS Greece" Project Manager & Site Engineer.
Member of Professional Institutes:
Technical Chamber of Greece
American Society of Mining Engineers
Greek Institute of Underground & Tunneling Works
Chartered Management Institute, U.K.