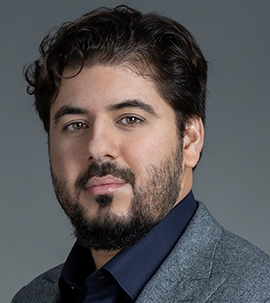 Rafael Feliz Español
VP of Sales & Marketing Europe & Middle East, Karisma Hotels & Resorts
Rafael Feliz Español, VP of Sales & Marketing Europe and the Middle East for Karisma Hotels & Resorts, and has been a monumental player in the company's strategic growth, which has earned multiple industry awards and accolades for exceeding the expectations of upscale travellers. Today, the brand portfolio includes El Dorado, Margaritaville Island Reserve, Margaritaville St. Somewhere, Nickelodeon Hotels & Resorts, Azul Beach Resorts, Karisma Villas and Hidden Beach, with properties located across Mexico and the Caribbean.
After working as Corporate Brand Manager since 2012 in Miami (USA), Rafael relocated to Karisma Hotels & Resorts' European office in Belgrade, Serbia in 2017, where he and his team oversee sales and marketing developments.
Rafael has always championed a creative approach to hospitality management and product innovation – a signature value underpinning all the Karisma Hotels & Resorts brands. The portfolio is internationally recognized for elevating the luxury all-inclusive concept and pioneering a laidback, family approach to guest service and playful programming. Most notably, Karisma Hotels & Resorts is celebrated for introducing debut, premium F&B concepts across all brands, and Gourmet All-Inclusive experiences that pamper guests with beach butlers, concierge, turn-down service, 24-hour room service, premium beverages and global cuisine.