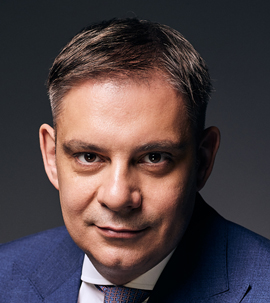 Zivorad Vasic
co-owner of Kadena Properties, co-owner of Kadena Sotheby
Zivorad graduated from Boston University with a degree in two fields – hotel management administration and finance. He was awarded master's degree upon defending his thesis in the field of economic and financial indicators in hotel management. He is a guest lecturer at the Faculty of Economics in Belgrade and at Singidunum University, where he defended his doctoral dissertation on the topic of "rewarding hotel employees".
His 17-year long career in the USA started in Boston and continued in eight American cities and 11 hotels, where he held managing positions. He joined Delta Holding in 2008 and joined IHG in 2013 as a pre-opening General Manager of Crowne Plaza Belgrade. In 2017, Zivorad was promoted to Area General Manager for Crowne Plaza Belgrade, InterContinental Ljubljana, InterContinental Bucharest, InterContinental Sofia, Regent Porto Montenegro and Hotel Indigo Belgrade.
He is a member of Serbian Association of Managers, Serbian Business Club "Privrednik", a member of the Board of Directors of the American Chamber of Commerce (AmCham) and a member of the Board of Directors for Youth Achievements in Serbia.
He has been awarded numerous prestigious rewards in the field of hotel management.
Today, he is the co-founder and director of the "Kadena Properties" company, a unique platform in Serbia for managing investments in real estate and for performing demanding projects; the director and co-founder of the company "Kadena Sotheby's International Realty" and "Propellyst".