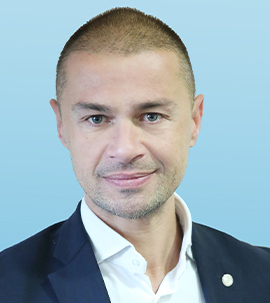 Milovan Novakovic
MIRCS, Managing Director, Colliers International, Montenegro
Joined Colliers International in 2007 and has started as an ICAS Officer. In 2009 took the role of Senior office representative and was coordinating all activities of the Montenegrin office together with SEE Regional director. At the end of 2010, officially becomes General Manager of Colliers International, Montenegro. Specialized in Real Estate Management Services and has successfully undertaken different type of investment advisory studies related to all types of property, such as hotels & resorts, industrial premises, office & retail blocks, land parcels and residential properties and was directly involved in all big projects that Colliers has done in Montenegro.
Certified appraiser and LEED qualified. Currently President of the Board of Directors of the Green Building Council of Montenegro and Colliers is the Co-Founder of that Organization. From December 2014 member of Royal Institution of Chartered Surveyors (RICS).
Business and Educational Background Has graduated at the Faculty of Economics in Podgorica and before joining Colliers International worked as Computer Designer, Research Assistant, and Advisor for Marketing, Financial Officer, Marketing Manager and free entrepreneur. Community Involvement Through activities of GBC Montenegro, which founder he is, educating society how important is to have balance between ecology, society and economy.