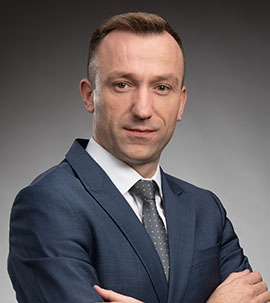 Vlatko Djuricek
Country Head, Bescio, Serbia
Mr. Vlatko Djuricek has a Master of Science degree in Civil Engineering, Construct Project Management from Belgrade Faculty of Civil Engineering. In 2011, Djuricek started his professional carrier as a development and investment manager in Delta Agrar, which has been a part of Delta Holding. He has more than 10 years of experience in Acquisition and Property Development working with international and biggest domestic real estate companies as Lidl and MPC Properties, CTP Invest are.
Mr. Vlatko Djuricek has been appointed as Country Head of BESICO Serbia at the end of 2021, ready to use his wide ranged expertise in real estate.
Mr. Vlatko Djuricek has a proven track record of more than 600,000 m2 of buildup area of property development projects, and counting, consisting of retail parks, shopping malls, factories, warehousing/logistics, office and supermarkets projects, in which more than 6,000 new working places were established, with total investment of more than 400 million euro.