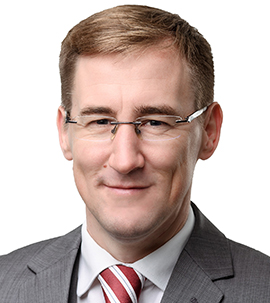 László Krüpl
Partner, Head of the Real Estate and Construction Practice Group, Schoenherr Hungary
László Krüpl is a Hungarian lawyer with 16+ years' experience in transactional legal advisory for international and domestic clients. László's main fields of expertise are real estate acquisitions (both share and asset deals), and greenfield investments. He also assists clients with lease negotiations.
After gaining considerable international experience during his university studies abroad, László started his professional career in the Budapest office of an international law firm as a junior associate in the real estate practice group. After that, he further improved his knowledge having focused on real estate at different high-profile international law firms. Before joining Schoenherr, László worked as a real estate attorney for an international law firm as well as an associated law firm of one of the Big4 companies. Besides law firms he also worked in the House of Commons in London (2009).
In November 2022, László Krüpl wasnamed as one of the top ten real estate lawyers in Hungary (https://businesstoday.news/meet-hungarys-top-real-estate-lawyers-navigating-the-markets-complexities-with-ease/).
László is a member of the Budapest Bar Association (trainee (2008), junior associate (2010) and attorney (2013) and a qualified member of the RICS (Royal Institution of Chartered Surveyors) (2021) on the Commercial Real Estate Pathway. He regularly publishes articles on real estate topics (ESG, leases, land registration). László also performed a course in real estate finance (ESCP Business School, Madrid, 2019). He teaches real estate law at ELTE Law School Budapest.
László is a certified German-translator (ELTE Budapest, 2014) and speaks fluent English and mother tongue level German.