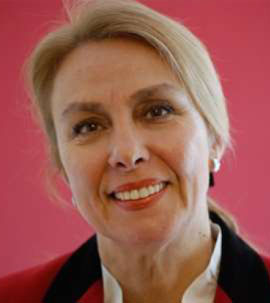 Güniz Çelen
CRE, MAI, FRICS, Turkey
2017 Landauer Winner / White Award
ÇELEN Corporate Property Valuation and Counseling Inc. – Chairperson (2003-)
ÇELEN Strategic Investment Solutions Ltd. – Founding Partner (2003 -)
ÇELEN Appraisal Center. – General Manager (1995 - 2003)
CRE The Counselors of Real Estate Global - Member of Board of Directors (2019-)
CRE The Counselors of Real Estate Global – Strategic Planning Committee Member (2019-)
CRE The Counselors of Real Estate – European Chapter Chairperson (2016-2018)
Appraisal Institute USA – International Member to Board Of Directors (2012-2015, two terms)
CRE The Counselors of Real Estate – European Chapter Executive Board Member (2014-2020) Appraisers' Association of Turkey – Founding Honorary President (2001-2007)
Darüşşafaka Society – Executive Board Member (2013-2019)
ULI, Urban Land Institute – Executive Country Council Member (2000-2015)
TMMMB – Assoc. Of Turkish Consulting Engineers and Architects – Executive Board Member (2006-2008) İPYD – Istanbul Project Management Assoc – Executive Board Member (1999-2000)
YASED – International Investors Assoc.– Member of the Higher Council and Auditor
Prior to launching Çelen Appraisal Center in 1995, Güniz Çelen worked, in International construction contracts as project engineer, then took executive position in international trade, investment and development projects as Executive Vice President - Investments of KiSKA Holding; active in infrasture construction contracts, superstructure development and The Marmara hospitality investments in Turkey, ME and in USA .
The 44 years of extensive and diversified hands-on experience in various areas of construction, development and investment environs blended with the advantage of her M.Arch (METU) and MBA in Finance (Koc University) degrees, has led to an accumulation of unique know-how in infrastructure, residential, commercial, hospitality and industrial development issues. With a proven track record, Celen Group companies have become well known for value enhancing services in breathrough conceptual design, development economics and investment strategies which not only fit the market needs but lead future trends within a very extensive geography.
Guniz Celen being the first Turkish member of the Appraisal Institute, CRE, RICS and ULI, has spent years in establishing the foundations of the appraisal profession as the Founding President of the Appraisers' Association of Turkey and has had the honor to represent Turkish Appraisers at IVSC and TEGoVA as Associate Member during her tenure. Güniz continues to speak, teach and write for the development of the real estate investment environment and has recently initiated the Women Leaders in Real Estate Movement in which has turned into a platform. Guniz is mother of Pınar (in-law), Onur & Doruk Çelen.