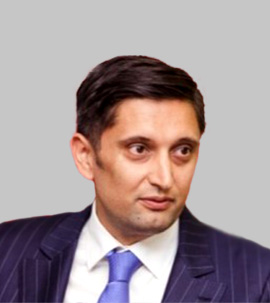 Horatiu Florescu
Chairman & CEO, Knight Frank, Hungary & SEE
Highly specialized in office agency, tenant and landlord representation services, Horatiu Florescu has a wide breadth of property experience in Central & South Eastern Europe, gained in his over 25 years' career by advising the main developers as well as the most prominent multinational companies operating in the region.
Regarded as one of the most experienced and successful consultants on the regional market, specialized in occupier services and landlord representation, Horatiu is reputed for his cutting edge and professional consultancy services to tenants, developers and investors alike. He brings a wealth of expertise and knowledge to any real estate project.
Widely acknowledged for his pre-lease expertise, he has been involved in the largest real estate office projects on the regional market, leasing alone over 1,200,000-m2 office space.
Starting 2018, he coordinated the opening and is currently managing the Knight Frank office in Budapest and from 2021 the offices in Bulgaria, Greece and Serbia (SEE). Prior to setting up the Romanian office of Knight Frank in 2009, Horatiu was Vice President of Colliers International.
Horatiu is involved with several NGOs in Romania and is a member of the Aspen Institute, CoreNet, Club of Rome and Athens Club.