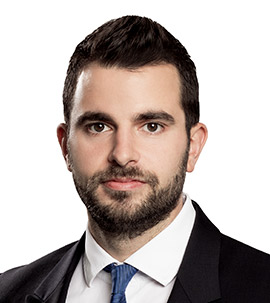 Milos Velimirovic
Partner at SOG / Samardzic, Oreski & Grbovic Law Firm, Serbia
Milos Velimirovic is a Partner at SOG / Samardzic, Oreski & Grbovic law firm, and regularly advises companies and financial institutions on issues associated with the regulation of the financial services, as well as on data protection, project financing, M&A, and other general corporate matters. He is particularly active in the fields of investment funds regulatory matters and the fintech industry.
Having more than 10 years of experience in banking, he acted as an advisor on complex financial transactions with both corporate clients, government, municipalities, and state-owned entities with a total value of over EUR 2bn.
Before joining the SOG team, he was Head of the Public Finance Department and a member of the Credit Committee at Hypo Alpe-Adria Bank (now called Addiko Bank), as well as the Finance Specialist at the World Bank Competitiveness and Jobs project. His combined education in law, finance, and business, as well as his background in banking, is essential in providing clients with comprehensive advice mindful of both legal and commercial aspects of each project. Moreover, his experience in public offices and position with the World Bank makes him well-positioned to advise clients cooperating with public authorities and institutions.
Milos was working in Hypo Alpe-Adria Bank from 2007-2016. During this period, he was engaged in multiple positions: from 2008-2010 he was the Head of the Local-Self Governments Unit, where he was in charge of the Unit management and market analysis and sales controlling function for the whole Public finance Department; from 2010 to 2016 he was the Head of Public Finance Department when he participated in the financing of all major projects in the public sector in Serbia with projects worth more than EUR 2 billion. From 2015-2016 he was engaged as Project Coordinator and also Performance Development Program Country Representative. During this period the European Commission imposed restrictions on Hypo Alpe Adria Group credit activities, and the project aimed to prepare the Bank for the post-privatization period. Miloš was responsible for the implementation and execution of this project.
He is a member of Belgrade Bar Association, and the General Assembly of the Central Depository and Clearing House of the Republic of Serbia. He is also Marshall Memorial Fellow, Konrad Adenauer Stiftung Scholar, and St. Hugh's College Alumni.
Miloš earned his LL.M. at the University of Belgrade, Faculty of Law. In addition to that, he has an Oxford Diploma in Financial Strategy at the University of Oxford, Said Business School, and also attended a Specialisation program in Treasury Sales for Corporate at Frankfurt School for Finance and Management. Finally, Miloš received a Certificate of Executive Level Training Program at Stanford University, Leadership Academy for Development at the Center for Democracy, Development and the Rule of Law (CDDRL).
Milos is fluent in English and French language, and has good command of German.