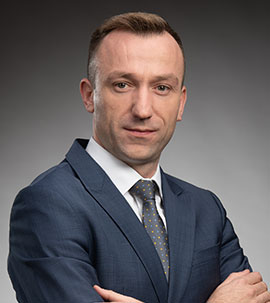 Vlatko Djuricek
Director, CTP Invest, Serbia
Mr. Vlatko Djuricek has a degree in Civil Engineering from Belgrade University. In 2011, Djuricek started his professional carrier as a development and investment manager in Delta Agrar, which has been a part of Delta Holding since 2006. He has more than 11 years of experience in Acquisition, Investment and Property Development working with international and biggest domestic real estate companies as Lidl and MPC Properties are.
Mr. Vlatko Djuricek has been appointed as Country Head of CTP Invest Serbia at the end of 2017, ready to use his wide ranged expertise in real estate. During this period, Serbian portfolio is growing progressively and it is expecting to have its first 355.000 sqm in short time
Mr. Vlatko Djuricek is also a member of TOP 30 CTP management team.
Key skills: Efficient, Interested in innovation, Creative, Commercial real estate, Retail, Supermarkets, Retail parks, Shopping centers, Industrial parks, Logistic centers, Office park, Land development, Land and property acquisition, Food industry, Retail network development, Investment and development, Agricultural project development, Company development, New project development, Company (Shopping Mall, Retail Park, Supermarket, Industrial parks, Logistic centers, Office Park) expansion, Construction, Construction project management, Team management, Company management, Management, Leasing of property, Property Management...