Uros Djakovic, Regional Director, RealPad, Serbia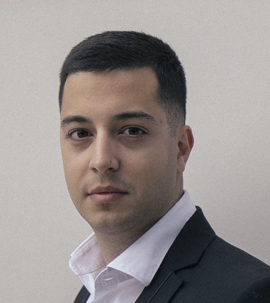 Focused on innovation and technology startups that help industries with innovative solutions to digitalize. Founder of two PropTech startups, experience in PropTech, Business Development, Project Management, and software launching. Certified Project manager (PMP), License for Real Estate Broker, License for Property Management. Advisor successfully collaborated with startups consulting them on Business development.
Experience with launching startups, our startups have been selected as the best five startups of 2020 and worked with Delta Business Incubator, Impact Hub, ICT Hub, and a lot of other activities on the startup scene, bringing light on PropTech startups and innovations in Serbia.
Right now on working as the Regional Director of Realpad a company that is focused on delivering the best tech solutions and starving to be the best PropTech company in Europe. Realpad provides a CRM for Real estate Investors Company who are building residential and commercial buildings. We are focused on the digitalization of Real Estate around the world with a strong focus on Europe.
Career
I was glad that my business journey started in Delta Holding, one of the largest companies in Serbia. I was honored to be part of the Young Leader program. Over 3000 applications were received in 2018. I am honored to be one of the 46 selected applicants & to be part of the eight generations of the Delta Holding Young Leaders program. With Delta, i have been working in Delta Real Estate.
Successfully launched our first startup Beohost. Beohost is a PropTech Startup that has grown from a Marketplace that provides a platform on which Real Estate owners can find the Property Manager that will take care of their Apartments, to a stable partner with Software products and Property Management Services.
CQC is a Startup that works as a multifunctional tool for data entry, monitoring, and data analysis on construction projects related to the production, transport, and installation of fresh concrete. CQC System is developed based on 20 years-long experience in the field of Concrete production and delivery with a team of experts in cutting-edge mobile and web technology. The basic idea is to collect "the last mile " data from the field by abstracting complex and repetitive bureaucratic processes only by not asking what we already know.
Realpad is a PropTech company that provides a smarter Real Estate management platform for sales, marketing, and project management teams. We do not just develop software, we also change our way of thinking. Real estate development is a huge and important industry. Driving tech innovation there feels extremely meaningful to us so we have built our platform from scratch and it is now serving hundreds of satisfied users. Every day we help them simplify the sales process with a smarter software platform. Follow our vision to make the buying and selling of new homes an enjoyable experience.