GREET Vienna 2014 - kome se mogu ponuditi i predstaviti projekti iz Srbije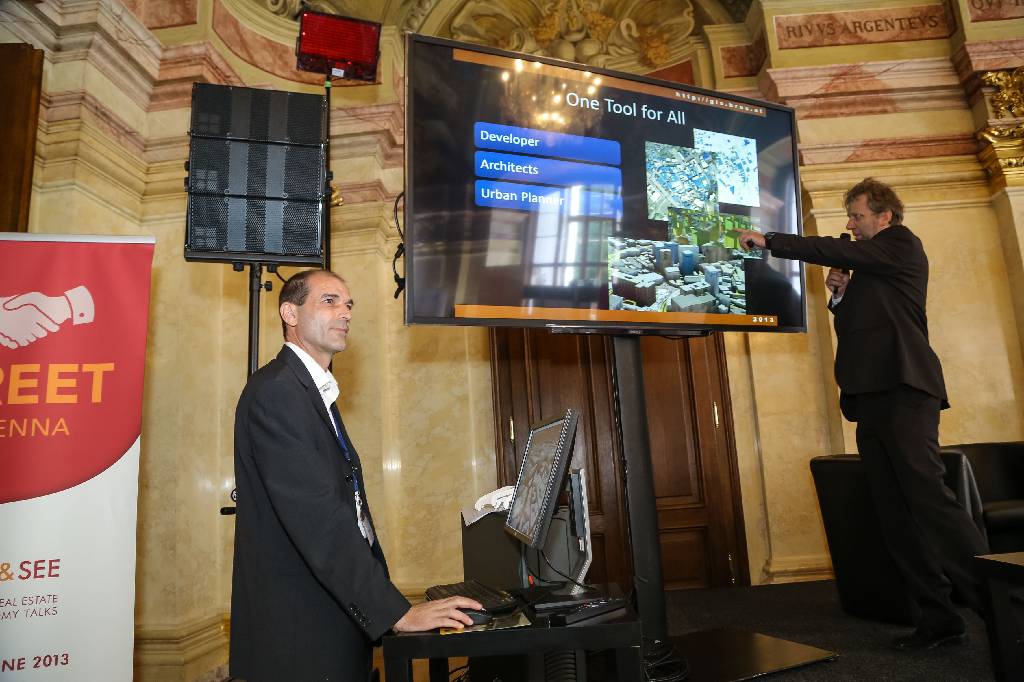 Neki od učesnika i potencijalnih investitora ovogodišnjeg
GREET Vienna
događaja su:
Lukasz Adamczak
, Asset Manager,
Warimpex Finanz- und Beteiligungs AG
. Warimpex Finanz- und Beteiligungs AG je kompanija za razvoj i investicije u oblasti nekretnina, sa posebnim osvrtom na hotelske objekate u Centralnoj i istočnoj Evropi.
Michael Adams
, International Marketing Manager,
Memorial Healthcare Investments Inc
., Turkey
Avionne P. Allen-Singh
, President, Chief Executive Officer,
ALLEN MEDICAL INTERNATIONAL, USA
Wolfgang Amann
, Director,
IIBW – Institute for Real Estate, Construction and Housing
- jedna od vodećih istraživačkih i konsultantskih organizacija u oblasti stambenog finansiranja, stambenog zakonodavstva , stambene politike i održivosti u Austriji i Centralnoj i Istočnoj Evropi. Projekti se sprovode za nacionalne i lokalnih samouprave , međunarodne organizacija i privatni sektor. IIBV referentni projekti su brojne studije o austrijskom sistemu socijalnog stanovanja i stambenog finansiranja , stambeni profili i istraživanja stambenog tržišta u vezi sa nekoliko zemalja Centralne i Istočne Evrope, sveobuhvatni novi Zakon o stanovanju za Rumuniju ili implementacija sektora socijalnog stambenog zakupa u Crnoj Gori.
Kamil Blazek
, Chairman of the Steering Committee,
Association for Foreign Investment, Czech Republic
- Udruženje za strana ulaganja je nevladina neprofitna organizacija usmerena na pružanje podrške stranim direktnim investicijama , razvoj češkog poslovnog okruženja, izvoz investicija i investicionih usluga, kao i na saradnju između kompanija i istraživačkog sektora . Od svog osnivanja 1996, AFI je grupa renomiranih čeških i multinacionalnih kompanija za pružanje usluga investitorima na češkom tržištu , kao i usluga usmerenih na izvoz investicija u inostranstvo. AFI tesno sarađuje sa nacionalnim investivcionim i poslovno- razvojnom agencijom CzechInvest, Ministarstvom industrije i trgovine i raznim drugim javnim i privatnim institucijama .
Gernot Bleier
, Consulting Manager, Reality Consult
Alexander Bosak,
CEO,
Bosak Real Estate Consulting GmbH
Dr. Erhard Busek
, former Vice Chancellor of the Republic of Austria, Chairman of the Board of
IDM
- Institute for the Danube Region and Central Europe se bavi aktuelnim pitanjima u vezi sa Dunavskim regionom, Centralnom i Jugoistočne Evropom radi poboljšanja znanje o regionu i promovisanja dobrosusedskih odnosa.IDM nudi pristup informacijama, pristup kontaktima ili partnerima u Austriji i inostranstvu, izvođenje studija i istraživanja.
Marcus Cieleback
, Head of Research,
Patrizia Immobilien AG, Germany
- investiciona kompanija za nekretnine u više od 10 evropskih zemalja. Od 1984 PATRIZIA je kompanija kojom upravlja njen vlasnik i nezavisna je od banaka. Kao investitor i pružalac usluga, sa više od 700 zaposlenih PATRIZIA brine o celokupnom lancu vrednosti nekretnina u svim segmentima tržišta nekretnina.
Adela Cristea
, Development Director Central and Eastern Europe,
Hilton Worldwide
Denis Cupic,
Director and Managing Partner, F.O. Development d.o.o., Croatia
Cyril Dejanovski
, General Manager, VCES Property Development, Czech Republic
Klaus Duda
, Managing Director, DTA Duda, Testor. Architektur
Malgorzata Dybas
, Partner, HG Consultants – Hotels Asset Management Polska
Martin Eberhardt
, Spokesman of the Management, Bouwfonds Investment Management, Germany, Chairman of the Board at RICS Germany
Martin Erbe
, Head of International Real Estate Finance, Continental Europe, Helaba Landesbank Hessen-Thüringen, Frankfurt am Main
Daniel Fuchs
, Managing Partner, Spiegelfeld International S.R.L., Romania
Karin Fuhrmann
, Tax Advisor and Partner, TPA Horwath, Austria
Miodrag Gazibara
, Director of Sales and Leasing, Delta Real Estate, Serbia
Dr. Johannes Hahn
, European Commissioner for Regional Policy
Marc Guido Höhne
, Director, DREES & SOMMER, Austria
Philipp Kaufmann
, Founding President of ÖGNI Austrian Sustainable Building Council
Dr. Andrea Kdolsky
, Managing Director Life Sciences, Healthcare Services & Pharmaceuticals, PwC, former Health Minister, Austria
Peter Kollermann
, CEO, PFK+Partner, Austria
Adam Konieczny,
Country Head Poland, Christie + Co, Poland
Dr. Andreas Köttl,
Managing Director, value one holding AG, Austria
Heinz Kunesch
, Executive, ISB Immo Service und Beratungs GmbH, Austria
Leopold Kühmayer
, Tax Advisor & Partner, TPA Horwath, Austria
Wolfgang G. Lunardon
, Member of the Board, Chief Investment Officer, REICO, Czech Republic
Fritz Mostböck
, Head of Research, ERSTE Group, Austria
German Moyzhes
, Managing Director Germany, AVERS Group, Russia
Dr. Peter Oberlechner
, Partner, Wolf Theiss
Peter Pecnik
, CFO, HB Reavis, Slovakia
Alexander Petritz
, CEO, Institute for Structured Development (ISD)
Dr. Michael P. Reinberg
, Managing Director and Partner, Reinberg & Partner Immobilienberatung GmbH, Austria
Daniel Riedl
, CEO, BUWOG Group
Christoph Salzer
, Regional Director, Authorised Signatory, Warimpex Finanz- und Beteiligungs AG
Alexander Samonig
, Managing Partner ECOVIS, Owner of ECOVIS Confidas, Serbia
Wolfgang Scheibenpflug
, Head of Real Estate Development, Vienna International Airport
Martin Schlichting
, Head of International Clients and CB Finance, ERSTE Group Immorent
Rupert Simoner
, Senior Vice President Europe, Kempinski
Heini Staudinger
, Managing Director, GEA-Schuhmanufaktur und Waldviertler Werkstatt, Austria
Anamarija Suskovic
, Founder, Domovi za starije, Croatia
Andreas Thamm
, Director Development, IMMOFINANZ Group
Dr. Daniel Thorniley
, President of DT-Global Business Consulting and Co-Founder of CEEMEA Business Group
Ilja Veselov
, Director of the Agency for Regional Development, Kaluga Region, Russia
Hubert Vögel,
Managing Director, Raiffeisen Immobilien Kapitalanlage-Gesellschaft m.b.H.
Srdjan Vujicic
, Director of Real Estate Operations, Coreside, Member of Savills, Serbia
Friedrich Wachernig
, Member of the Board, S IMMO AG
Stefan Wundrak
, Head of European Research, TIAA Henderson Real Estate, London
Posebno su interesantni:
ALUKÖNIGSTAHL
,
Art Build-Up
, Bugarska (Developer),
Association for Foreign Investment
from Czech Republic,
CC Real
(exhibitor, develops and operates large shopping centres),
Drees & Sommer
,
Erste Group Immorent
,
M

medicalconsultants Academy
,
Austrian Sustainable Building Counci
l
,
PE International
,
REBEC
,
Servithink
,
TON
Design Furniture, Czech Republic,
TPA Horwath
,
VCES Property Development, Member of the Bouygues
-Network,
IMMOFINANZ, S IMMO AG, Baneasa
, Romania (developer),
Knight Frank Russia
,
Tridana from Slovenia, Enviros, Takenaka Europe, Uni Credit Turn Around Management CEE, PM Group, AIG/Lincoln, value one holding (developer)
i mnogi drugi.