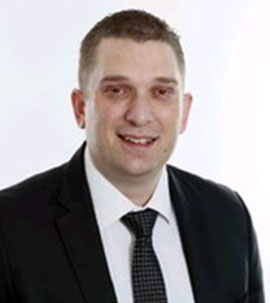 Nikola Djogatovic
Partner, Head of Regional Agency and Capital Markets, NAI – WMG, Serbia
An experienced real estate professional with over 16 years of experience that provides its comprehensive knowledge, enthusiasm and creative solutions, satisfies the needs of clients in the fields of business, office, retail and warehouse space in an adequate way.
Its fields of expertise include representing the interest of property owners, as well as leases, business mediation, consulting services, development consulting and land leasing, land sale, mediation in the sale and rental of retail, office, warehouse and industrial space.
Some of Nikola's successful clients were: Sungard/FIS, L'Oreal, Sika, Grawe, Inditex, Met Life, Sportina, Holcim, Schering Plough, Abbott, Actavis, Strabag, Siemens, Raiffeisen, Triglav Insurance, Đak Sport, DM, Telenor Serbia, Romstel group, Mr. Bricolage, Plaza Centers Serbia, MDS Serbia, Mercator, DHL, Avital, Ashtrom, Big Cee, IBC, Hafele, Delhaize, GTC, McDonald's, Brose, Aptiv, Cisco, Tebodin, Triple Jump Group, CTP, Kappa Star group, Coffeedream, Mitros Music, Fashion Company, Forma Ideale, Alta Group, Merin Group, EOS Matrix, Lilly, Konstruktor Group, Molson Coors, Milsped...