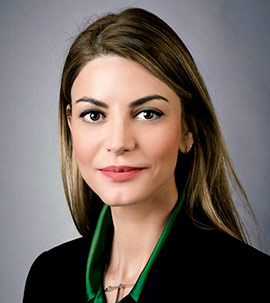 Aleksandra Njagulj
ESG professional, London
Aleksandra (Sasha) Njagulj is an ESG (Environmental, Social, and Governance) expert, focusing on real asset investment. Aleksandra Njagulj is a qualified architect with over 20 years of practical experience in architectural design, design management and the sustainable built environment.
Aleksandra Njagulj's last position was at CBRE Global Investors as Global Head of ESG, with overall responsibility for developing and communicating global sustainability priorities and strategies across all the business lines. She has designed and delivered an ESG programme, which received the UK-based edie 2020 Sustainability Leaders Award for the Investor of the Year. Before CBRE, Aleksandra Njagulj was head of the Sustainability, R&D and Innovation department at Bouygues U.K.
Aleksandra Njagulj earned a Master's degree in Architectural Design from the University of Belgrade in 2002 and a Master's degree in Sustainability Leadership from the University of Cambridge in 2017. She is a BRE Academy Fellow, serves on the GRESB Advisory Board, INREV ESG Committee and the ULI Sustainability Council.
She has received the global 2020 GRESB/BREEAM Individual Leadership Award, recognizing individuals who have demonstrated strong leadership and commitment in the field of sustainable development, and personally championed the cause of responsible real estate investment. In 2021, she received the global Future Proof Real Estate Woman Award as a leader in using digitalization, technology, open innovation, sustainability and circular developments to create a better built environment.