REBEC news
Arrival of Hilton and Merriot in Belgrade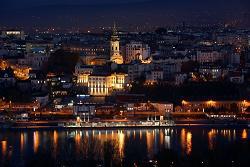 beogradska noc
This year's REBEC in its conceptual and development program has confirmed the validity of it's orientation. Analyzing the variety of speakers and topics that they have presented on 13 panels on the current situation of the Real Estate market in Serbia and the region, confirms the conclusions spelled out some time ago. After just a month of the end of REBEC 2011th topics related to retail, hotel development, project management, sustainable construction and energy efficiency with the standard and expected interesting topics on housing construction, development of business activities on the valuation of real estate, actualize the new information much faster and better than expected. Although it's the summer period and the holiday season, it is obvious that the time has come for the ultimate realization of certain activities and procedures. As confirmation of this on the market have emerged the uncontested facts and information about new projects and ventures. "Association of Appraisers of Serbia" is formed , and it will offer education and licensing procedures of local appraisers of all kinds. This process in its further development will ultimately define the scope and content of local standards for the evaluation of assets and capital that will absolutely correspond with The International accepted standards.  One of the specialized companies that manage project with domestic and foreign denomination has decided that in the framework of its activity appear as a general contractor for one foreign investor, this is not a novelty in the world .Also, another company decided to establish in Belgrade it's regional center, which will cover the geographical markets of the countries that are already in the European Union.  In terms of themes related to energy efficiency and sustainable construction are more numerous announcements and maintenance of specialized courses of authoritative associations, which will provide its students by acquiring and adopting new knowledge, also some kind of certification of this knowledge. In the retail market in Serbia, which is mainly related to "trade" and not production, just before REBEC 2011th started the project in Novi Sad from 30.000m2. Also it is announced the beginning of the development projects of the same purposes in Central Serbia, as confirmed by an investment partnership for a chosen location in Sabac with foreign partners. At least three mix use project are being developed in Belgrade, the retail is the center around which the content will appear as "bower" develop the use of other purposes such as offices and apartments But right now, certainly the most valuable information related to the development of hotel industry in Serbia, is a confirmed information that a prestigious hotel chains like Hilton and Merriot have selected local partners and locations for its first project in Belgrade. On the stretch from Slavija to Kalemegdan these chains will now have one its structure,Hilton will be a complete greenfield venture and Merriot will be implemented through the adaptation and reconstruction of the existing building. Bearing in mind that very soon will restart the project of reconstruction of Metropol and the start of reconstruction the hotel Yugoslavia. In addition to the hotel industry started construction in Block 11a in New Belgrade and hotels in Mostarska petlja, with the expectation that construction of yet another hotel in New Belgrade next to Arena will start. All this represents yet another confirmation that this years two panels linked to the development of hotel industry on REBEC in 2011. has confirmed expectations that the hotel industry at this moment is the most recommended and most attractive type of property that is in these times of crisis can develop unhindered.  As for the housing sector in turn its development will essentially continue to be conditioned by potential economic powers that rule this moment in the market and are related to potential buyers.  Greater offer opportunity to attract more customers able to overthrow the potentially serious encourage the purchase price of the square. Banks with still restrictive policy conditions that each entry of entrepreneurs to interested investment banks to support the development of larger blocks or housing projects or prospects in a way still solvent to obtain the loan.  The only advantage that is now ruling the market of real estate development, is the fact that the price performance over the previous period and continues on a downward mode, but the amount of the price that this segment is not sufficient to lower the overall price per square meter. Prices of equipment location remain the same but still benefits from the current 50% for advance payment of utilities and there is an insufficient number of entrepreneurs who are able to arange it. Also the current market situation is not enough "hard" to serious investors to reduce the projected margin sales price per square meter of residential construction, so it may be acceptable.  It just means that there comes a time when all participants in the development of this segment of real estate may jointly define a new business conditions. These will be some new requirements in all areas that touch and reflect the development of real esate absolute and / or fully edited. Then the other segments of the market and in particular those related to industrial and retail real estate, these segments further encourage investment.  It remains to be seen in late summer when the current rules be re-analysed, confirmation or negate all of the above, but in October at the upcoming EXPO REAL 2011th Fair again be able to compare the situation and potential development capacity of real estate in Serbia.                      
Dear
With great pleasure we want to inform you that this years REBEC 2011.conference is successfully completed and that the response of speakers and participants is very positive. This year REBEC 2011.Events were held for the fourth time at the Continental Hotel Beograd. In three days from 20 to June 22, to the participants were presented topics related to real estate development and related investments in the area of ​​retail, renewable energy and energy efficiency. Very noticeable were the panels thematically related to project management, hotel investment and development. We would especially like to emphasize the cooperation with PKF hotelexperts from Vienna, which has achieved through the implementation of two panels on the development of hotel and tourism industry.
On the other hand exhibition panels for the first time since the founding of REBEC event in 2008. finally achieved importance, through the placement of most frequently mentioned topic in Serbia .These panels were attached to housing development, investment potential in the field of industrial development. And of course, related to the display panel on the most recent experience in the field of the development of architecture. Today more and more common name of the architectonics, which completely and further defines, determines, and raises the quality of investment in the area of ​​flexible space-functional concepts that are assumed in all the assumptions of energy efficiency and sustainable development.
One of the goals that we scored on this year's REBEC refers to the initiation of the National Association of Appraisers which establishment was announced on the panel of estimating. This association will be adopted during the summer and offer a concept of local assessment of standards and at the end of autumn of 2011.educational model. This process will produce an acceptable model of licensing local professionals who deal with the valuation of real estate.
We hope to see you on REBEC 2012, where we will share and exchange experiences achieved in the meantime and maybe announce some new positive investment trends in Serbia and region. Our team will regularly report on the all novelties from the market that REBEC covers.
Also we would be very happy if you can propose us ideas which would raise the quality and relevance of REBEC. Also we would be very grateful if you provide us a critical review of REBEC in general and especially on REBEC 2011.  
Kind regards, REBEC team
Real Vienna 2011 and REBEC 2011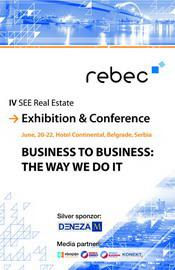 At the recently completed Real Vienna event, the publisher of Real Estate AG and organizer of REBEC, Festlent Ltd. one of the exhibitors affiliated national stand of Serbia, which was organized in Hall D Opportunities Fair in Vienna, had well-received appearance at the event, through three inter-related actions. New edition of AG Real Estate magazine was presented, and to all exhibitors renewed leaflet of announcement of REBEC 2011 was shared. 
The third and perhaps the most important thing is the participation of chief editor of AG property and Rebec director, Opsenica Alexander as speakers on the panel theme related to the development of hotel and tourism industry. 
The emphasis was on development of the Adriatic coast as a great investment destination in the hotel and tourism facilities but keeping in mind the context of topics expanded geographical aspect of the discussion and the potential in Serbia. Panel moderator was Mr. Gerhard Rodler, publisher and editor of Real Estate magazine IMMOflasha specialized television that tracks issues related to real estate development, and as a speaker Vachar Pierre, director of Jupiter Adria AG, developer who is now in the development of six tourist hotel facilities on the Croatian coast and Mr. Otmar Michaeler, CEO in the Falkensteiner Michaeler Tourism Group who officially laid the fundament of his first mix use project (hotel and office complex) last Friday in Belgrade in Block 11A which was conceived by Prof. Boris Podrecca. 
It is interesting to note that the general conclusion is that the market of Serbia is quite highly ranked and the efforts of administration to invest in infrastructure, education, and facilitate faster arrival of interested investors in Serbia, particularly those who are involved in the development of hotel and tourism industry. But also in mutual discussion, the speaker concluded that though the whole region nasg ot an unclear and uncompleted strategy for the development of this segment, because as he said Mr. Michaeler, differences in Croatia, Serbia and Montenegro does not exist regarding the duration of licenses and increase efficiency in all activities of local administrations should repent their promptness to assist the efforts of investors. The performance of our representative, the only speaker from Serbia on this years conference program, Real Vienna 2011 is a practical introduction to an agreement with PKF fnalni Hotelexpert-s from Vienna, the strongest company in hotel development and following consultation, to formulate this year's partnership in terms of programming for this years REBEC events related to the organization of two panels on the development of hotel and tourism facilities in Serbia and the region. If we only mention speakers who are representatives from companies such as ImmoRent, and Residor Accor hotels, Soravia-E, CMS and especially representative of the project PortoMontenegra which is developing a Four Seasons hotel and one of the Vice Presidents of Kempnisky group, then you really need to ask whether the quality of the famous names and their most prestigious representatives further emphasize the potential of Serbia for the development of hotels and tourist facilities? In addition, meanwhile, a confirmation has arrived that on one of these panels Goran Petkovic Ph. D, Secretary of State for Tourism in Ministry of Economy and Regional Development, will take part. 
According to our sources, next Wednesday will be published confirmed speakers which will only raise further interest of representatives from region, to participate at this year's REBEC events.
PROPRIO – INTERNATIONAL REAL ESTATE AND INVESTMENT FAIR IN SLOVENIA 23 and 24 March 2011 Ljubljana Exhibition and Convention Centre (Gospodarsko razstavišče, Ljubljana, Slovenia)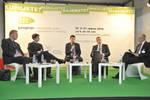 In late March (23 and 24 March 2011) will be held the second international real estate and investment fair in Slovenia – PROPRIO. It is the perfect opportunity for all those working in the field of real estate and investments to get together in one single place and be able to provide the interested public with all relevant information on real estate buying, selling, renting, and restoring. Visitors have the opportunity to get first hand information on everything essential for a quality real estate transaction. The fair will present Slovenian and international agencies dealing with real estate development, developers of investment projects, regional developement agencies with investment projects, companies offering real estate mediation, economic and legal counselling, construction, geodetic and engineering companies, architecture bureaux, insurance companies, banks, and others who are active in the field of real estate development business. Proprio has also many parallely organized presentations, promotions and discussions with educational character. The Public Agency for Entrepreneurship and Foreign Investments of Slovenia will give advices on how to present projects to foreign investors in a suitable way, a partner from Serbia will present Slovenian projects already realized in Serbia, The Association for Green Building of Slovenia (DSG) will dedicate Thursday's programme to green builders. This year's novelty is represented by the exhibition "Let's build lastingly, let's work in harmony with nature", in the frame of which reference works from green building will be presented by DSG.
Increased interest concerning real estate investments in South Eastern Europe!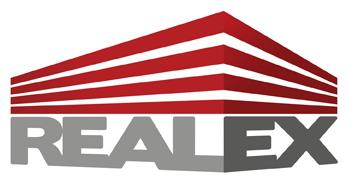 Investors are very interested in real estate investments in the region of South Eastern Europe, which has great potential and provides a great return of capital. This is also obvious from the interest of many companies from Macedonia and the region to participate at the REAL EX Skopje 2011 - The first exhibition for real estate and investments. Investments in real estate in Europe, especially in the region of South Eastern Europe, show an increase in the last year. The report of the company Jones Lang Lasalle has shown that direct investment in the European real estate market reached 20.6 billion euros in 2010, 68 percent more than last year. The turnover on the real estate market in Central and Eastern Europe, according to the data of CB Richard Ellis, has in the last year, compared to 2009, increased by 90 percent to five billion euros. "The real estate market is getting out of the crisis and is now ready for new investments, the continuation of stopped and the launch of new residential, business, commercial, administrative and tourist projects. In this respect our platform REAL EX provides an excellent opportunity for development and investment, as well as for a direct increase of sales", said the director of Leoron for SEE, Mr. Igor Čučkov. REAL EX, organized by the Leoron group from Dubai, a company specialized in creating, organizing and marketing of business events, will be held from March 1st to March 5th 2011 in the Metropolis Arena at the Skopje Fair, along with the traditional building fair. The REAL EX 2011 fair, which will be traditional event, includes a five-day exhibition and sales part, where real estate buyers and sellers will be present together with potential investors, banks and real estate agencies, municipalities, as well as architectural and design studios. Presenting their projects and facilities to a wide audience, the exhibitors will significantly increase the direct sales as well as sales opportunities, shorten the time for the return of investments, and at the same time have the opportunity for meetings and contacts with leaders in the real estate market in the region, experts, as well as a large number of clients, partners and potential investors. At the REAL EX Skopje 2011 a two-day Conference for investments and real estate will be organized, where some fifty experts from Europe, the United Arab Emirates (UAE) and the United States (USA) will discuss the modern trends and innovations in the real estate sector. The jury will select the best projects and companies which will receive the REAL EX Awards for the year 2011 at the gala event. All other details about this event can be found at: www.realexskopje.com